In this part of Hogwarts Legacy, players resume normal Hogwarts School Life, with a side of fighting the Ashwinders and uncovering hidden chambers. Below are all the details about living as a student till Professor Fig returns.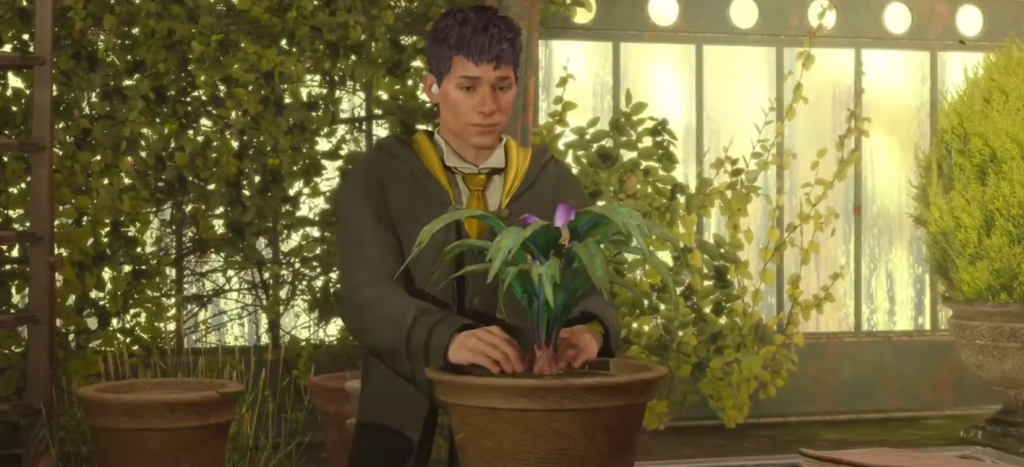 In this part of Hogwarts Legacy, players take a break from investigating Ancient Magic to continue student life at Hogwarts, attending Herbology and Potions classes and taking a trip out into the wider area surrounding Hogwarts. This lasts until a brief encounter with Ashwinders that reminds players that they're still being hunted.
As the chapter concludes, players are reminded that there's a plethora of threats in the area around Hogwarts and the wizarding world at large, as previous chapters of Hogwarts Legacy also showed.
Related: Hogwarts Legacy: Easy Tips to Play and Win – How to Guides (P1)
Herbology Class
Heading over to the Hogwarts Greenhouses allows players to meet Professor Garlick, the Herbology Professor. She begins this class by having the students repot Mandrakes and then tasks them with planting some Dittany. Speak with Professor Garlick and then return to the Potting Table to plant the Dittany, which is worth coming back for once it's grown since it's used to brew Wiggenweld Potions.
Griffindor Student Leander Prewett joins players to go take care of the Chinese Chomping Cabbages in the next Greenhouse at the Professor's request. This introduces players to combat items, so grab the cabbages and try throwing them over at the dummy in the Greenhouse to see them at work. They're handy in a fight and deal decent damage, so it might be worth learning to grow them at some point. Head back to class and speak to Professor Garlick to finish the lesson.
Potions Class
Heading down to the Potions Classroom introduces players to Professor Sharp, who teaches Potions. He begins the class by asking students to prepare a Wiggenweld Potion, which can be used to cure injuries. Follow the prompts on screen to prepare the potion; then Professor Sharp suggests you learn how to make an Edurus Potion too. Head over towards Sharp's office to be interrupted by Garreth Weasley.
Garreth would like players to steal some ingredients for a Potion he's working on from Sharp's office. If players decide to help him, it just means grabbing some extra items whilst in the office getting ingredients for the Edurus Potion. After getting the ingredients and, potentially, handing off ingredients to Garreth, players can start brewing their Edurus Potion to continue the class.
If players assisted with Garreth's potion, it will launch blue sparks into the air and attract Sharp's attention. Speak to Sharp to end the class and, if players assisted Weasley, receive a brief reprimand for assisting in his chaos.
Meet Natty in Lower Hogsfield
Players will also want to go and meet Natty in Lower Hogsfield, where she reveals her plan to investigate Rookwood in hopes of putting an end to their threat, and players get the opportunity to tell her about the events of the opening at Gringotts.
After this, Hogwarts Legacy players can head further into Lower Hogsfield to find Dark Wizards threatening a woman. These are Ashwinders working for Rookwood and looking for the player, so a fight breaks out.
Players should remember everything they've learned from participating in Crossed Wands and potentially even finish up Crossed Wands first if they need some more practice. Use the correct spells to break through their shields and make good use of Protego and Stupefy to guard and counterattack.
After the first few are beaten, an Ashwinder Duelist will arrive who can make use of unblockable spells that are indicated by a red warning around the player's head and must be dodged rather than blocked.
After the fight is over, the Witch they were threatening introduces herself as Nora Treadwell and explains that she's investigating the Merlin Trials. After explaining them further, she shows the player how to activate them.
For this trial, players need to light each of the three pillars using Incendio quickly since they'll sink into the ground and reset if players take too long. After clearing the trial, Nora thanks the player for their help and suggests they look for other Merlin Trials throughout the area.
"Gamerant"