KartRider Rush+ is bringing the excitement for Season 19's "Block World" upgrade and celebrating the game's third birthday.
The most recent season of Nexon's mobile racing game, KartRider Rush+, has just been approved as players go to the Block World. The new Zenith Interlock legendary kart and Bazzi of Liberty, a new legendary character, will both appear in Season 19 of the show. As part of the celebration for KartRider's third anniversary, a variety of additional prizes are also up for grabs.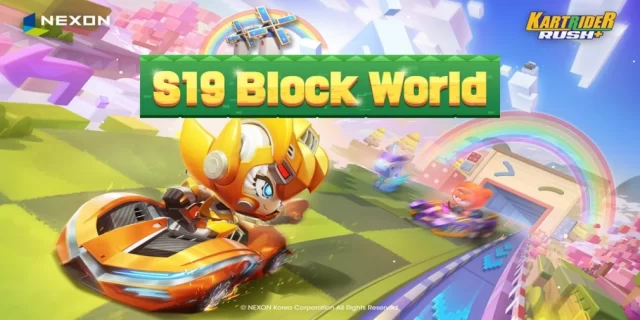 In KartRider Rush Season 19, all karts, drivers, and tracks are created with the Block World theme in mind. On settings such as the Furnace Frenzy (Block) and the Ribbit Resort (Storybook), players can compete as the new legendary driver driving the super-cool kart.
The season 19 highlight kart also comes in two different shapes and emits dazzling light. The Flare Ranger and the Crystal Ranger, both of which are offered in the Ranger Centre, are the players' options.
There is also a new Rally Mode to look forward to, so that's not all. Players will be instructed to travel as quickly as possible on set portions of the course. Multiple rewards—including pricey ones like the Universal Coupon, Batteries, and Red Rose Gothic Star Jewel—will be provided if this is completed within the allotted time frame.
KartRider Rush+ is now hosting a ton of events to mark its third anniversary. A Three-Year Special Coupon, which unlocks things like the Golden Gallant Knight, Flying Engine, and the anniversary-only character Sweet Tooth Naiad, is available to everyone.
The offer becomes active on May 12 and is valid through May 26. Players who successfully complete tasks in ranked modes will additionally receive a Three-Year Coin. It can be exchanged for a variety of things, such as the Heart Emoji Headgear and the Zenith Interlock.
"Pocketgamer"