Here are the top 8 best couple games in 2023 you can play and chill with your girlfriend or boyfriend.
Over the years, technology has vastly grown, and games have diversified heavily, opening up the realm of possibilities for digital inclusion in hobbies. And when it comes to balancing your time between your favorite hobbies and your significant other, it can be a real ordeal. But it's no secret that cultivating a healthy relationship between couples means being open about your passions.
Thankfully, the advantage of playing great multiplayer games on mobile means most budget Android phones are already well-equipped to handle them, so accessibility isn't a concern. So to make the most out of your experiences without spending too much, we've rounded up a list of some of the best Android games that let you share and bond with your partner.
1. Spaceteam
Communication is essential to building a healthy relationship, but what about during intense situations where you're already yelling at the top of your lungs at your partner? Spaceteam is a shouting game where you and your partner (supports up to 8 players) coordinate to save yourselves from a failing ship in a crisis; each player is given time-sensitive instructions with a custom control panel, requiring teamwork to finish tasks successfully. This game will teach you how to have a blast (quite literally), all while solving problems.
2. Sky: Children of the Light
In a situation where you and your significant other are looking for more of a traditional game to share, Sky: Children of the Light has got you covered on multiple fronts; the game's fully equipped with fantastic co-op multiplayer, where you and your loved ones can venture across the different dream-like realms while being tasked with spreading the Light and bringing back the lost stars. Thanks to the aesthetically-pleasing visuals, the experience feels almost profoundly spiritual.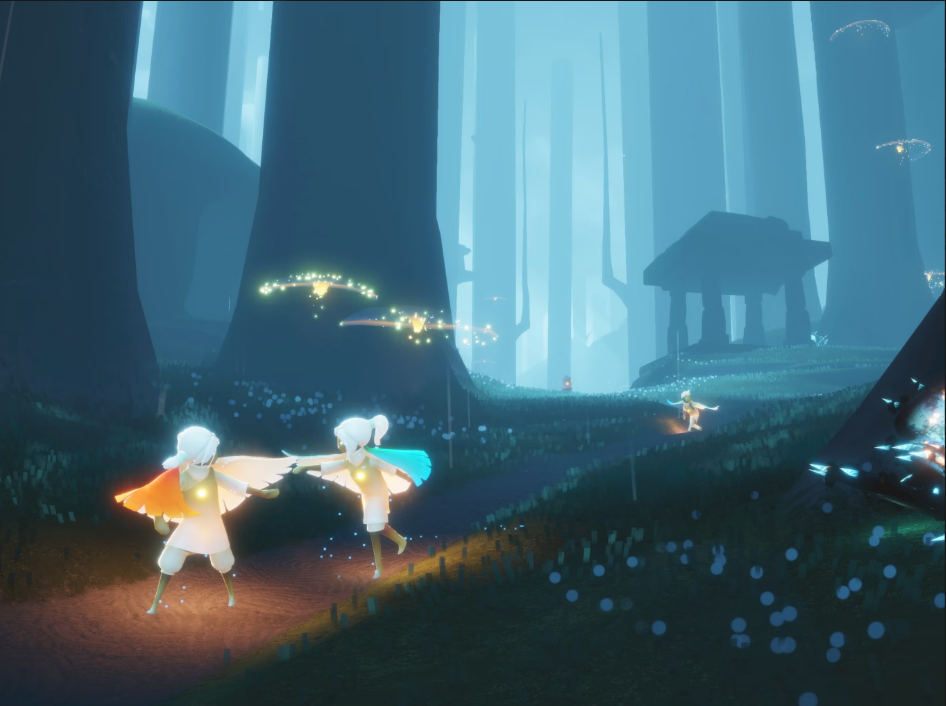 In addition, the game is meant to be a social adventure, which means you and your partner can embark on this journey at any given moment or enjoy the puzzle-solving experience without any stress; it's perfectly suitable for busy couples who want to relax together during downtime without getting into anything too competitive or complex, otherwise known as a casual game.
3. 8 Ball Pool
Perhaps you're considering playing pool with your better half, but neither of you can/wants to go out nor have the physical set-up at home. 8 Ball Pool is the best 3D interpretation of pool you can play on Android, requiring no set-up to dip into a casual game of pool. In addition, you can change your pool table and customize both the table and cue through purchases made in the pool shop.
So if you both dig a game of pool that includes realistic physics and responsive controls, consider bringing in a few rounds of 8 Ball Pool at your next stay-at-home date.
4. Terraria
Terraria is similar to Minecraft in that both games are at the pinnacle of success for Android's best sandbox games. But Terraria offers a broader focus beyond crafting and building in your world; it also includes adventuring, boss slaying, item crafting, and city building — and still hits these multiple spots well across the board.
The excitement behind Terraria is continuously diving into the unknown and exploring the depths to gather the resources you need to grow your world economically. So if your partner has an adventurous spirit and is a bit of a collection fiend (especially for treasure and rare resources), Terraria is a great game to load up. And remember, the Android version is also built from the ground up and includes controller support, so it's guaranteed to be a smooth experience.
You may also like: 
5. The Sims Mobile
If your significant other isn't much of a gamer, you may be able to rope them into gaming by introducing them to the Sims. It's an addictive experience that does an excellent job of reproducing and manipulating reality with fictional creations or testing the waters in some realistic situations. The Sims Mobile even lets your Sims move in with someone else's Sims, so you and your partner can hypothetically bond more by cohabiting virtually.
But, of course, the world is your oyster, so don't be afraid to let loose with your significant other — you never know what you can learn from each other through these experiences, after all!
6. Golf Rival
Does your other half have a fiery competitive streak? Or are both of you casual appreciators of golf? Golf Rival has plenty to offer when it comes to playing golf on Android, whether to climb the global leaderboards or enjoy a private competitive match against each other. And fortunately, the included incentivized reward system for winning games doesn't affect the balance, so you won't have to worry about not being on an even playing field. Nonetheless, don't be shy about showing off your skills at this virtual Golf course; it's always a nice bonus to impress your partner in different ways.
7. Heads Up (Netflix Edition)
Binge-watching Netflix may already be a staple pastime in your relationship. But what about changing it up and adding a party game to the mix; you and your partner can test your knowledge on some of your favorite Netflix shows by loading up the charades-like app Heads Up. And when you're already a Netflix subscriber, you can access this app for free.
The game's premise is simple, pick a category and hold the device up to your head, then your partner will see the word and mention clues (without mentioning the word). Once you've guessed the correct word, you tilt your head to move to the next word. Of course, you can invite other friends and family members to join in on your shenanigans — the more, the merrier!
8. Pokémon Go
Pokémon has been around for decades; you either fell in love with these critters while growing up or have fond memories of the franchise even as an adult. The good news is that Pokémon Go is the less intimidating entry-point to the Pokémon games produced by Game Freak. Chances are that you and your significant other already shed love for the series, which is where Niantic's Pokémon Go app comes in handy. The AR experience means you can dabble with the app while walking, sitting on the sofa, or hanging out in a park. And the progression system is based around slinging Poké Balls and completing tasks like step count/friendship leveling and collecting Pokémon. The game rewards you more when you have people to play with, like during raiding and trading, so this could be an excellent game to share with your partner. The best part is that you don't have to be a Pokémon guru or a huge gamer to appreciate the collection-based gameplay loop.
(Follow Androidpolice)