Marvel Entertainment is an American corporation that produces movies about Iron Man and other well-known characters from well-known comic books. They also specialize in video games, audiobooks, motion pictures, and other things. The top 10 best Marvel video games for Android in 2023 are showcased today.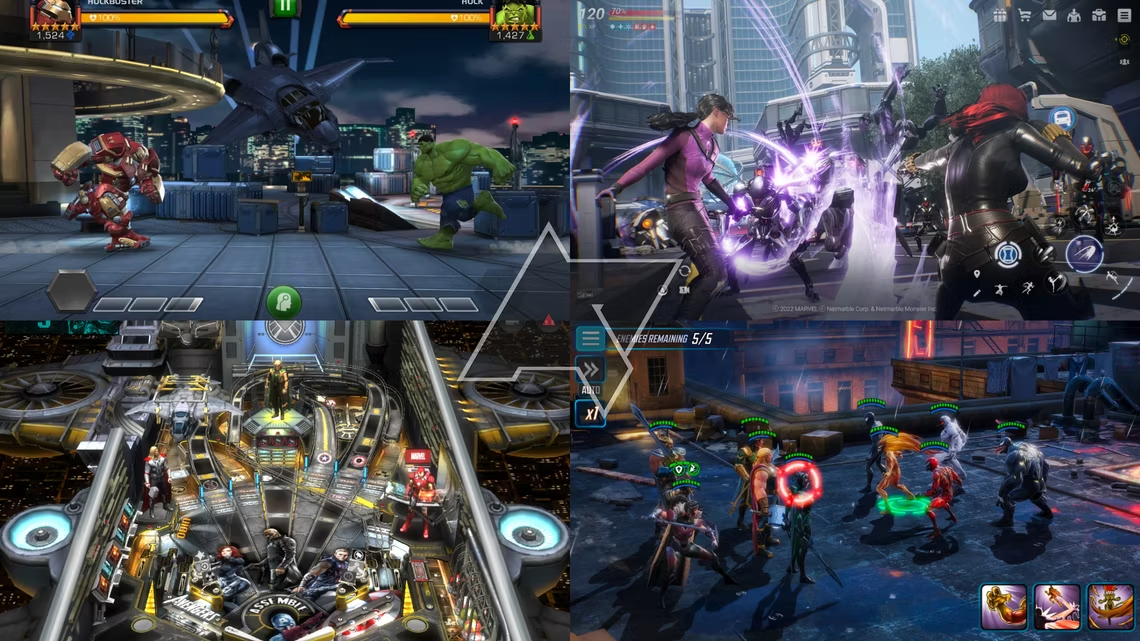 1. Marvel Snap
Marvel Snap was released in late October of 2022, both gamers and critics have praised it. It's a collectible card game made by Second Dinner, a team led by lead designer Ben Brode and made up of several former Hearthstone devs, including Yong Woo and Hamilton Chu.
It includes Marvel characters in the form of cards, each with their own special attributes and skills. There are constantly fresh cards to acquire because each card has various versions.
Related: Top 15 Best Decks in Marvel Snap
2. Marvel Contest of Champions
A star-studded cast of well-known characters may be found in the Marvel Contest of Champions. Create teams with heroes like Captain America and Star-Lord or antagonists like Venom and the Green Goblin in one of the greatest fighting games on Android.
According to their partnering, characters receive perks. In other words, Wolverine and Cyclops together would improve their stats, whereas Spider-Man should generally avoid Venom. The story mode in Marvel Contest of Champions also features places from across the Marvel Universe, such as the Avengers Tower, Wakanda, and Asgard. Face off against some of the most powerful Marvel villains with your freshly assembled crew.
3. Marvel Future Fight
More than 200 Marvel characters—both heroes and villains—are included in Marvel Future Fight. Your characters get major stat bonuses when matched with the proper partners, just like in Contest of Champions. To see the full potential of either the X-Men or the Avengers, put together a team.
Take on the game's vast story mode by yourself or in partnership with gamers from all over the world. There are numerous objectives in Marvel Future Fight for you to complete. Plus, you can put your skills to the test in the game's PvP arena combat if you think they are up to par.
4. Marvel Future Revolution
Marvel Future Revolution is a perfect name for the list of the top 10 best Marvel video games for Android in 2023, which was created by Netmarble as well, claims to be the first open-world Marvel game on Android. You can challenge other players online in addition to completing the game's story mode and missions.
Marvel Future Revolution, one of the more recent Marvel mobile games, features some of the platform's best visuals to date. Even though there are only about a dozen playable characters in the game, updates frequently include new ones.
5. Marvel Pinball
Marvel Pinball has characters from Marvel on its tables, however there are no actual fights in the game. Instead, you'll play pinball tables with Marvel-inspired characters as you attempt to direct the ball through the maze-like structure and rack up high scores.
Playing Marvel Pinball costs $0.99 but is free if you have a Play Pass subscription. The Avengers table is included when you buy the game, and you may purchase more tables individually. Select from a selection of tables that feature well-known Marvel figures like Iron Man and Thor or teams like the X-Men and the Fantastic Four.
6. Marvel Puzzle Quest: Hero RPG
The Marvel Puzzle game blends puzzle play with action RPG features. Of course, you play as the characters from the Marvel universe instead of Street Fighter characters.
Over 250 characters fight it out on screen in Marvel Puzzle Quest's match-3 game as you watch. Each character has special skills that develop the more you succeed with them. You can also play the game's story campaign mode and gather comic book covers to strengthen your characters.
7. Marvel Strike Force: Squad RPG
You build a team of Marvel characters in the turn-based RPG Marvel Strike Force. In this instance, though, heroes and villains team up to save the Earth from an external attack, increasing the number of interesting people.
Form strange partnerships with characters like Hulk, Loki, Red Skull, and Captain America. Plus, you can give them strong weapons and skills to increase their strength, speed, or height.
8. Marvel Collect
Opening packs in Marvel Collect allows you to build up a sizable collection of cards. Cards offer something for everyone because they span the whole canon of the fictional world, from vintage comics to contemporary Disney renditions.
But it goes beyond just having a virtual copy of a hero; as you collect cards, you also earn different accomplishments that you can display on your profile, such as avatars. Marvel Collect resembles a Panini sticker album in certain ways. You can trade undesired duplicates with other players after you start gathering them.
9. LEGO DUPLO Marvel
It's not your ordinary Marvel game, Lego Duplo Marvel. As you see, this game is entirely instructional; there is no combat in it. It emphasizes the fundamentals of behavioral and character development and is mostly geared toward children.
The saying "Not all heroes wear capes" is a good way to sum up Lego Duplo Marvel. It fosters player characteristics like curiosity and creativity through its Lego Duplo building principles. Plus, it simulates real-world scenarios through difficult puzzles, which could enhance reasoning and solving problems.
10. LEGO Marvel Super Heroes
To make games, Lego has collaborated with many different franchises. Super Mario, Star Wars, and even Marvel are examples of this. Marvel Super Heroes, which is similar to Duplo Marvel, assembles essential characters from the universe in a Lego format.
You can play as characters like the Hulk, Iron Man, Spider-Man, and many others, but they will all have the distinctive forms of Lego figurines. Lego Marvel Super Heroes will guide you through 45 tasks based on the Marvel universe for a modest $4.99.
That's all for the best Marvel video games for Android in 2023. Do you have any inquiries or suggestions? Please feel free to remark below.
Source: Androidpolice