If you have free time and want to find a good golf game, let's explore the list of the top 10 best golf games on Android in 2023 in the article below.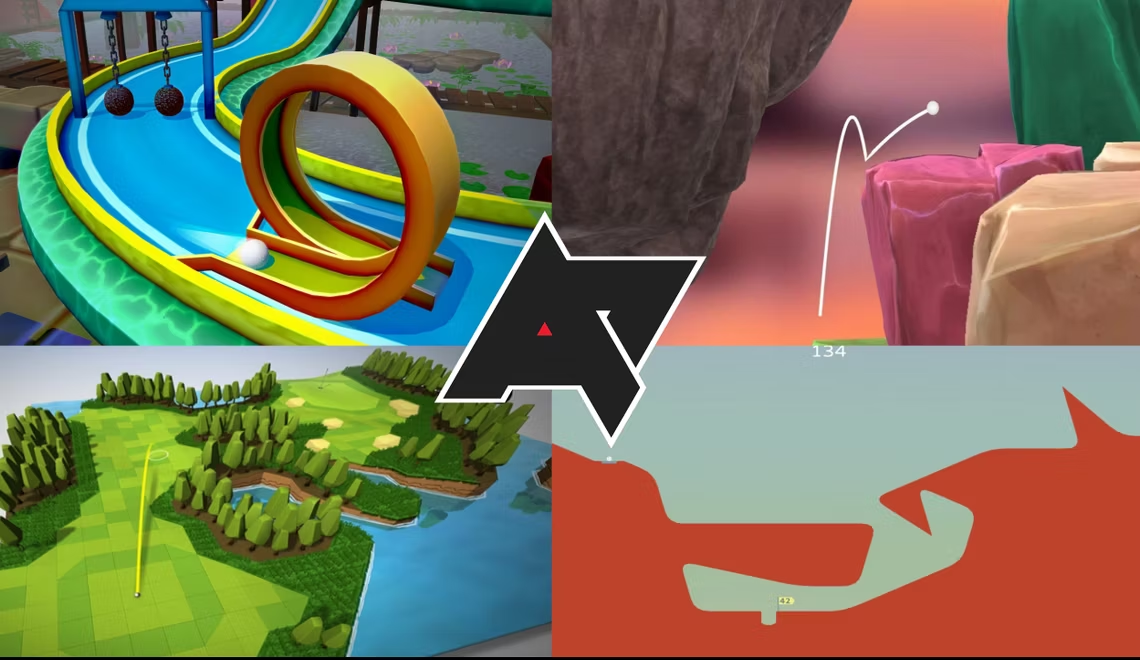 Golf games are pretty ideal for mobile devices, given their small input requirements and simple gameplay loops. Golf requires conscious attention to trajectory and timing, things that the best Android games of yore have spent years preparing us for.
The Play Store has brought us a huge variety of golf apps, from 2D to 3D, to parody, and we've compiled our favorites here. Get the ball rolling with this roundup of great golf games on your favorite Android phone.
1/ Golf Battle
Golf Battle adapts mini-golf to a mobile game format complete with colorful 3D courses, quirky obstacles, multiplayer features, and a MarioKart-style combative element. Users who have played mobile pool will grasp the controls quickly, pulling back to calculate their shots' strength and trajectory.
New clubs with different stats can be acquired via gameplay, adding club types with different stats to the mini-golf experience. An interesting feature is an ability for players to knock their opponent's ball out of optimal positions to gain an advantage, transforming a usual golfing no-no into an active mechanic. Intuitive, vibrant, and easy to get into, Golf Battle is great for mobile pool enthusiasts and golf lovers alike.
2/ Golf On Mars
Golf On Mars gives users a visually basic, but refined experience of 2D golfing over increasingly complex terrain. The being on Mars concept is referenced by the color palette and slow progression of the user's ball through the air, simulating a desert environment with weak gravity. Golf On Mars' Play Store description details the context for the game's premise, that this is a simulation of what it would be like to golf on Mars. The game's absurdly detailed store page is good for a laugh, and it feels great to play casually.
3/ OK Golf
Another game that uses mobile pool controls, OK Golf lets users golf in stylized, easy-on-the-eyes environments based on real-world locations. Shooting for a relaxing atmosphere with its subdued color palette and calming nature ambiance, OK Golf strikes a happy medium between regular golf and mini golf with flat but detailed courses. Completing courses in different modes unlocks secret content, rewarding skill, and consideration. Definitely worth a shot if you're looking for a relaxing challenge.
4/ PGA TOUR Golf Shootout
PGA TOUR Golf Shootout simulates fairly realistic games of golf by using real-world locations and precise trajectory requirements. Users are thrust into a tutorial explaining the app's gameplay mechanics, demanding the player get them perfectly before proceeding.
This practice is necessary, however, as the actual in-game matches are extremely demanding and require careful consideration to complete. Upgradable clubs make this process easier, and daily challenges give users the chance to hone their skills. If Golfing On Mars was a little too easy for you, PGA TOUR Golf Shootout is more your thing.
5/ Golfing Over It with Alva Majo
Golfing Over It with Alva Majo is a parody of the infamous Getting Over It with Bennet Foddy, in which you torturously drag yourself up a mountain, with the ever-present risk of losing progress keeping you on edge; and here users are still doing that as a golf ball.
Controlling a spherical object incurs the risk of rolling off flat surfaces, adding additional weight to your shots. The game allows users to correct their trajectory in midair with multiple taps, potentially saving them from losing progress. If you fancy a unique challenge that requires mastery of the mechanics provided to progress, Golfing Over It with Alva Majo is worth a look. Just don't blame us for what you do to your phone.
6/ Mini Golf 3D City Stars Arcade
Mini Golf 3D City Stars Arcade looks and plays just like a real game of mini-golf, demanding keen attention to shot strength and geometry. The visual design is very clean and efficient and goes with the addictive gameplay extremely well. Swipe the screen for slight adjustments in trajectory, charge your shot's power, and then release.
Enjoy traditional mini-golf obstacles including windmills, moving barriers, loop-d e-loops, and more. Users have access to competitive online play, cosmetic upgrades for golf balls and courses, and new modes planned for the future. Mini Golf 3D City Stars Arcade is pretty spot-on for a mobile golf game and is well worth a try.
7/ Mini GOLF Tour: Clash & Battle
Mini GOLF Tour: Clash & Battle is a purely multiplayer mini-golf experience, which encourages accuracy and speed from the user. The courses are detailed and colorful, with a multitude of classic mini-golf obstacles.
Users pull back on the ball and release it with the desired force, a system that requires practice as the ball loses momentum very quickly and can be easily undershot. A slew of well-constructed courses demand strategy to overcome, and customization features add replay value. Mini GOLF Tour: Clash & Battle is tough to get the hang of, but hard to put down once you do.
8/ Golf Master 3D
Golf Master 3D recreates the golfing experience on Android devices with engaging competitive gameplay, eye-catching graphics, and versatile multiplayer features. The app kicks off with a tutorial upon startup, introducing the putting mechanics that strike (no pun intended) a good balance between tough and fair.
Users must calculate their swing strength before timing their trajectory with a swaying arrow; getting it to stop in the middle means a straight shot. Once you get used to these controls, the game ramps up the difficulty with bigger and more complex maps, livening up the competitive play between the user and either another player or the CPU. With additional club customization and tournament events, Golf Master 3D keeps its quality high and consistent.
9/ Golf King – World Tour
With very similar controls to the previous entry, Golf King – World Tour livens up the established gameplay loop of trajectory and timing with some extra showmanship. Your avatar smacks the ball into the air with a satisfying explosion of light and sound, compensating for the lack of non-diegetic music.
The app also informs the user of useful details that would be taken into consideration in real golf, such as wind strength, wind direction, and the gradient of the terrain. One unique feature is users have to put in-game currency into a pot with their opponents, and the winner takes all. This adds tension to an otherwise dry and relaxing experience, so if you like things a bit more grounded and closer to the genuine golf experience, Golf King – World Tour does the trick.
10/ Flick Golf Extreme
Flick Golf Extreme is a golf game where you can place your golf ball in some weird yet cool environments, from a helicopter overlooking a warship to a sunny spot in the mountains. The visuals add spectacle to regular single-shot golf, which demands the user to calculate their trajectory and control the power of their shot simultaneously.
This can be tricky, even with the ability to tweak course in midair. Flick Golf Extreme grants access to multiple modes of play that impose different rules and challenges to make things interesting, and Google achievements make sure that users have something to work towards. If playing golf in absurdly unlikely locations sounds interesting, check it out.
Get your first Ace in the hole!
Golf games designed for the latest Android tablets interest us for their surprising range of gameplay themes, something they have in common with the Play Stores' most popular puzzle games. It doesn't matter if you like high-stakes multiplayer experiences like Mini GOLF Tour: Clash & Battle or Zen experiences like Golf On Mars which rival the coziest games on Android; you won't go unserved here. Give some a try and enjoy the noble sport of golf without breaking the bank.
That's all the details about the top 10 best golf games on Android in 2023. Which one do you like best? Please leave feedback in the comment section below.
"Androidpolice"