To help you get stronger and maintain your motivation to push through session after workout, check out the best workout apps for women in the post below.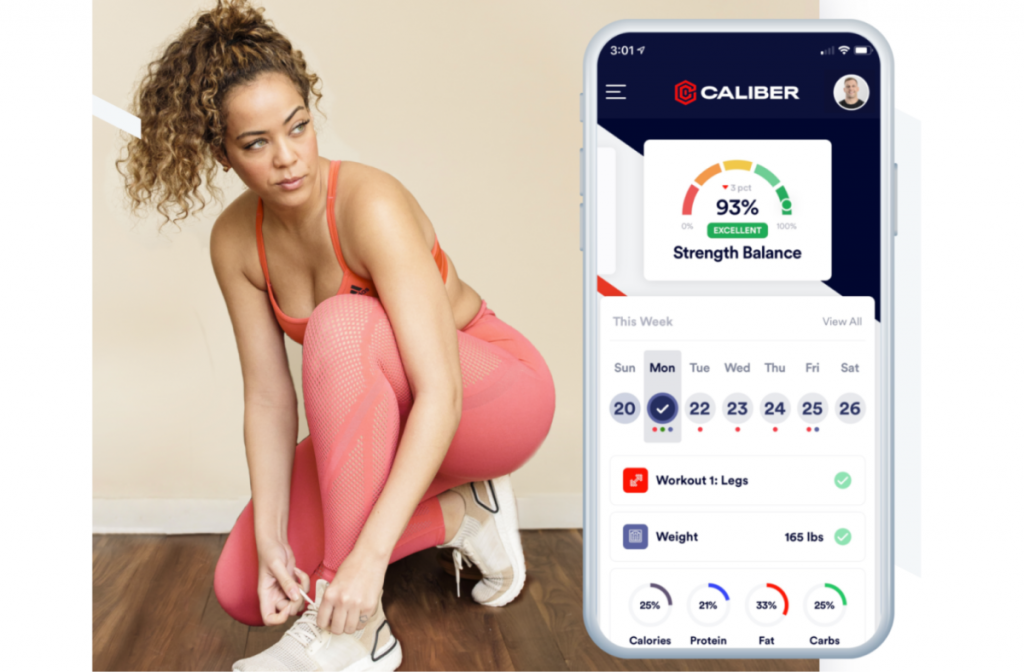 Fitness apps have grown to be a widely used method for meeting fitness and health goals on your own schedule and at a reasonable price. Despite the large number of available fitness apps, not all of them are necessary designed with women's health and fitness in mind. The best workout apps for women, what to look for when selecting a workout app as a woman, and how to use fitness apps to your advantage are all covered in this article.
1. Workout for Women: Fit at Home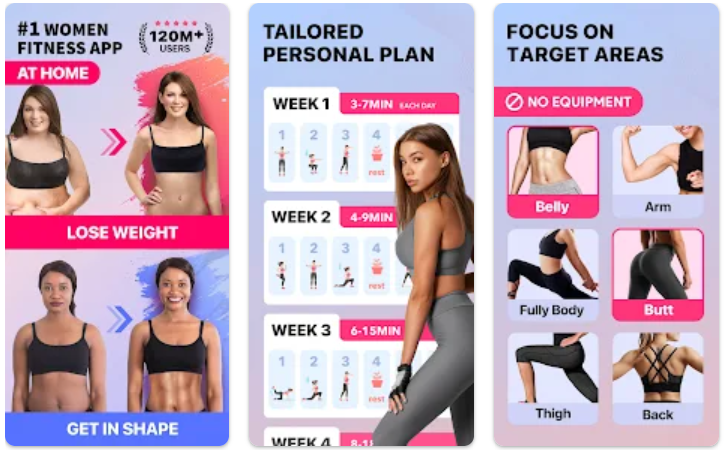 If you're frightened by going to the gym, working out at home is a great place to start. Additionally, the summer-specific workouts on the Workout for Women app may be of interest to you if you're trying to get in shape for the warmer months. During bikini season, these exercises can help you feel more confident and at ease in your own skin.
The program for Women app is quite straightforward to use, and it's simple to locate a program that meets your preferences. There are new exercises and challenges for various body areas, such as your arms, thighs, and stomach, each week.
2. Sweat
Sweat is one of the top personal training applications available and was developed by well-known personal trainer Kayla Itsines. Picking your fitness level, training approaches, and whether you want to train at home or in a facility should be your first priorities.
A distinctive online community of women from all around the world is available on the Sweat app. Being a part of a fitness community may give you support, inspiration, and a sense of sisterhood as you work toward your fitness objectives. Sweat includes a meal planner, a monthly calendar, and a progress tracker in addition to a ton of training routines.
3. Lose Weight App for Women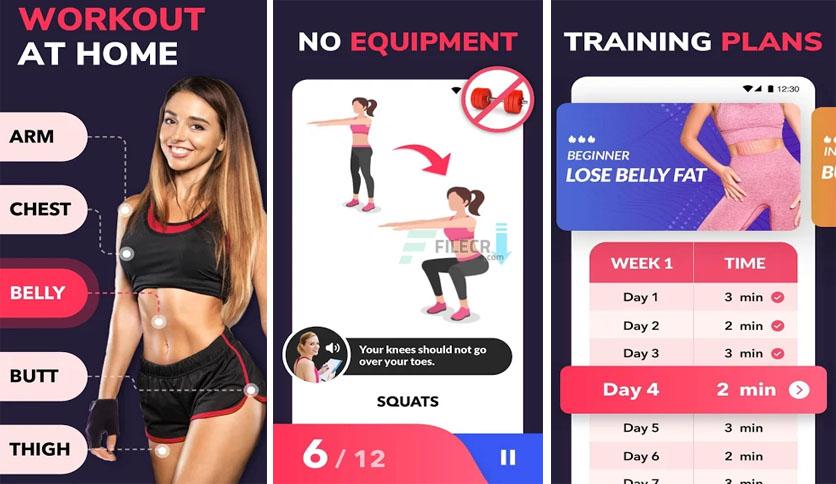 A slowed metabolism that comes with aging causes weight gain. Gaining weight around the abdomen increases a woman's risk of suffering a heart attack, according to Harvard Health Publishing. Therefore, it's imperative for ladies to lose their additional belly fat.
Particularly the Lose Belly Fat program, the Lose Weight App for Women is ideal for removing extra fat from the abdominal region. Over the course of five weeks, the program includes daily fat-burning workouts like crunches on a bicycle and mountain climbers.
4. StrongHer
Since women come in all different sizes and shapes, having a training regimen tailored just for you is crucial. An incredible fitness and nutrition software called StrongHer gives you a weekly training regimen based on the specific measurements of your body.
The schedule consists of five daily workouts, plus a weekly challenge session that you can complete whenever you want to spice up your week. Additionally easily tracked by the app are your steps, calories burned, water consumed, and all of your meals.
You may also like:
5. Workout for Women | 7M Women
According to data from ScienceDaily, losing extra weight can be challenging, especially for women who naturally have more body fat than males. From beginner boxing and squats to Tabata and rapid HIIT workouts, Workout for Women features a vast selection of fat-burning workouts.
You can fit in The Daily 7 on the app, a brief daily training session, during lunch or after work. Seven minutes a day is all it takes to work up a sweat and burn calories!
6. LadyFIT
LadyFIT is a fantastic smartphone apps with clear instructions and adaptable workouts that focus on all the key female body parts. Since no lady wants her arms to jiggle when she moves them, you might want to concentrate on your chest and arms.
Participating in the LadyFIT Arm Workout program is the greatest approach to achieve results if you want strong, toned arms. You can rate the intensity of each workout you do using the app, and it adapts the following program based on your rating, which is another amazing feature.
7. WeFit
You could be wary of engaging in muscle-building workouts as a woman because you worry that you'll appear big. Yet, with the right exercise regimen, you can develop attractive, slim muscles. The ideal female toning routines for your chest, abdomen, arms, shoulders, and legs are available on the WeFit app.
You can target certain areas, like your chest, with the app, which then offers efficient starting workouts in addition to intermediate, advanced, and beast workout regimens. The five-week workout schedules grow in difficulty as you advance and gain more physically fit.
8. Barre | Down Dog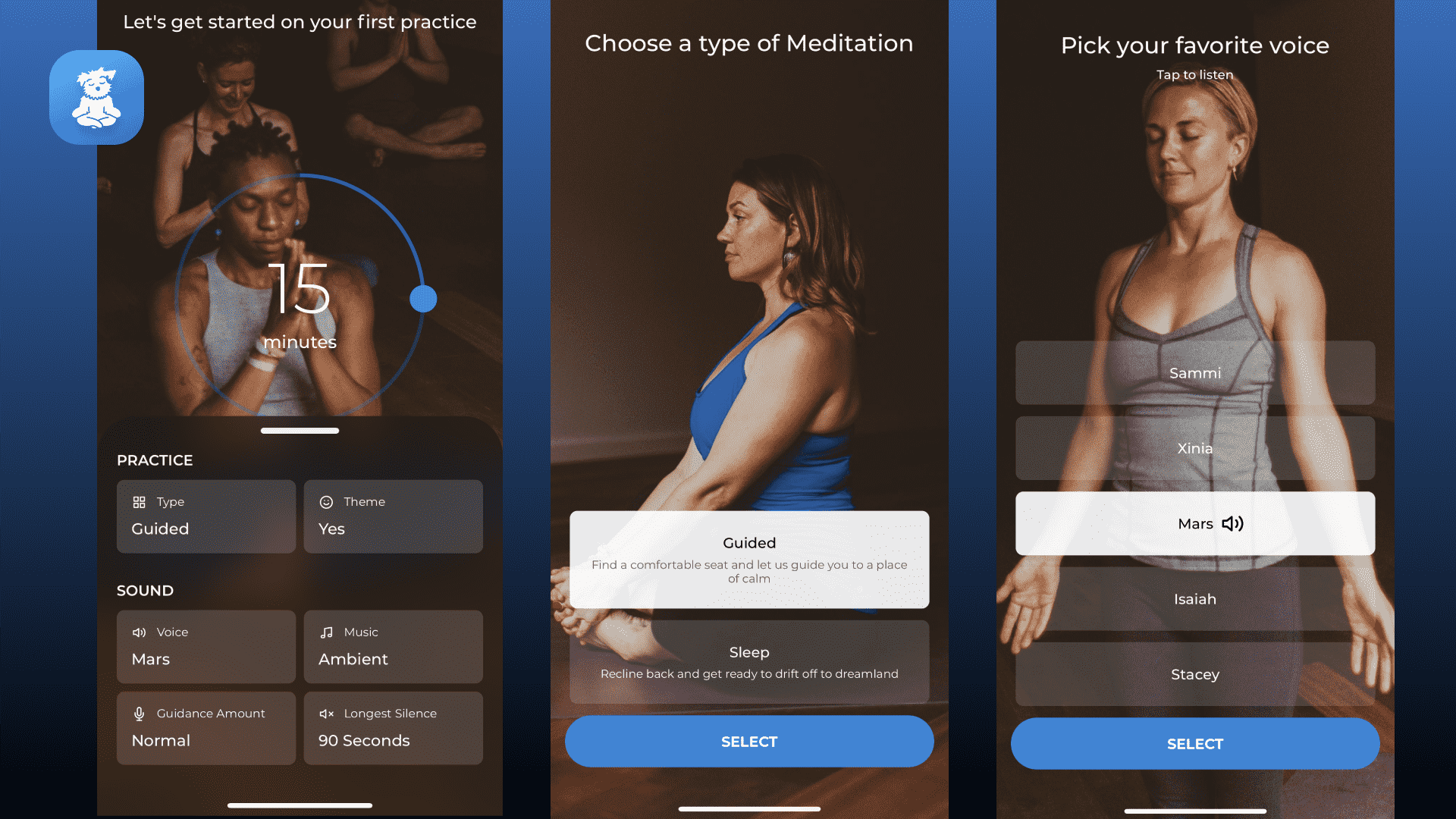 Barre is a low-impact, beginner-friendly, full-body workout that women love. Barre is beneficial for women in particular because of the simple but brutal movements that strengthen and lengthen muscles. It is a combination of ballet, Pilates, and yoga, which means you can have the body of a ballet dancer in no time.
One of the standout features of Barre | Down Dog is its user-friendly interface. The app provides clear video demonstrations and audio instructions for each exercise, ensuring that you perform them with proper form and technique. This is especially important for barre workouts, as precise movements and alignment are key to maximizing results and preventing injuries.
That's all the best workout apps for women that cater to their unique fitness needs and goals. Remember, the best workout app for you will depend on your specific goals, preferences, and fitness level. It's always a good idea to try out different apps and see which one works best for you.