Maximize your Vampire Survivors gaming experience by discovering the top Arcana power-ups in the game.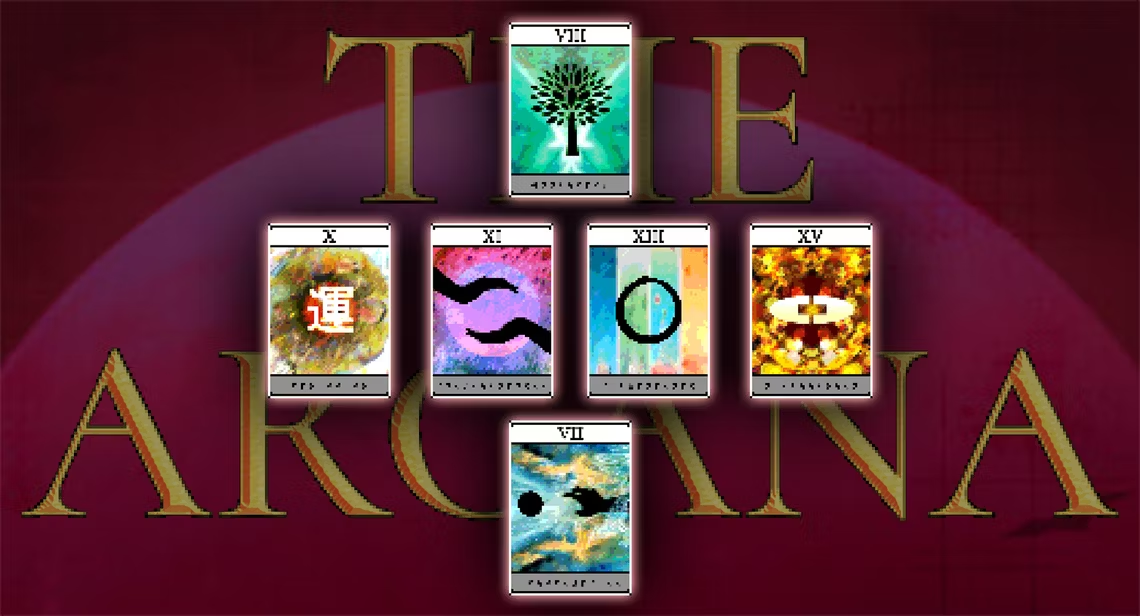 Part of the reason Vampire Survivors is so popular is the well-crafted power creep. When you first start the game your character is an under-powered, whip-wielding, Simon Belmont clone. It won't be long before you start to power up and unlock new characters and new stages (if you're ready to unlock a new phone, take a look at the best gaming phones of 2023). After a couple of hours of play time the once-difficult early stages become easy, you have a few favorite weapons (and know how to use them), and maybe even a favorite character. But this is about the time when Vampire Survivors drops a new mechanic on you that can change how you play the game: the Arcana.
1. Pick a card, any card
The Arcana is a mechanic that allows you to add a buff to your run. Perhaps you want more gold to unlock your next character or more revives to help you reach 30 minutes; the Arcana can help you get it done. To unlock the Arcana, you first need to acquire the Randomazzo in the north of the Gallo Tower. There will be a green arrow pointing right to it so it should be easy to find. As soon as you pick it up, the Arcana is enabled and you get your first card: Sarabande of Healing. To unlock more, you either need to reach level 50 with one of the first 16 characters, or survive until minute 31 in one of the first four stages. There are 22 in total, but some Arcana are better than others.
Beginning

Beginning gives +3 amount to your character's starting weapon and +1 amount to Bone, Cherry Bomb, Carréllo, Celestial Dusting, and La Robba. This Arcana is good for when you want to start your run off with a lot of fire power.
Unlock Beginning with the spell "laruota" or reach level 50 with Antonio.
Mad Groove

Every two minutes, every item, treasure chest, light source, and experience gem is brought to you in a neat circle. Not only is this perfect for not missing any stray experience gems you may have missed on your monster slaying rampage, it also brings far-away items right to your feet, saving you lots of time.
Unlock Mad Groove with the spell "laforza" or survive until minute 31 in Mad Forest.
Iron Blue Will/Waltz of Pearls

These Arcana allow some of your weapons to bounce off of the mobs up to three times. This is perfect for when you find yourself pressed in on all sides by monsters with no clear path through them. Which one you choose depends entirely on your weapon choice, but both are perfect for multiplying the effectiveness of your weapons.
Unlock Iron Blue Will with the spell "ilcarro" or reach level 50 with Gennaro.
Unlock Waltz of Pearls with the spell "lagiustizia" or reach level 50 with Imelda.
Wicked Season

If you can handle it, this Arcana is one of the best in the game. Every level your growth, luck, greed, and curse gain 0.5%. On top of that, every 10 seconds these four stats cycle through being temporarily doubled. Select this Arcana at the beginning of your run to maximize its effectiveness.
Unlock Wicked Season with the spell "lamorte" or reach level 50 with Christine.
Disco of Gold

This Arcana allows a Gold Fever to be triggered whenever a coin bag is picked up and restores 1 HP for every gold you pick up. Disco of Gold is mandatory if you're embarking on a gold run. It pairs well with Mad Groove, Wicked Season, and Sarabande of Healing.
Unlock Disco of Gold with the spell "ildiavolo" or survive until minute 31 in Inlaid Library.
2. The secret to survival is knowing what to throw away and knowing what to keep
Normally, you'll only be able to pick three Arcana in your run (You can get around the three-card limit with certain characters and game modes). The first you'll choose when you start the level. The second and third Arcana you get from a purple chest dropped by a boss at 11 minutes and 21 minutes. You'll be able to choose one of four randomly selected Arcana in each chest. If you have the Reroll power-up, you can use it with Arcana the same way you can with weapons and items.
If used right, Arcana can completely change the way you play a run and take your character from ho-hum to OP. For the full rundown on how to unlock Arcana, check out our Secrets Guide, and if you're just getting started, take a peek at our Beginners Guide as well.
"Androidpolice"