If you're looking for wholesomeness, then this list will introduce you to the top 12 Animal Crossing-like games for 2023. Don't hesitate; scroll down to try now.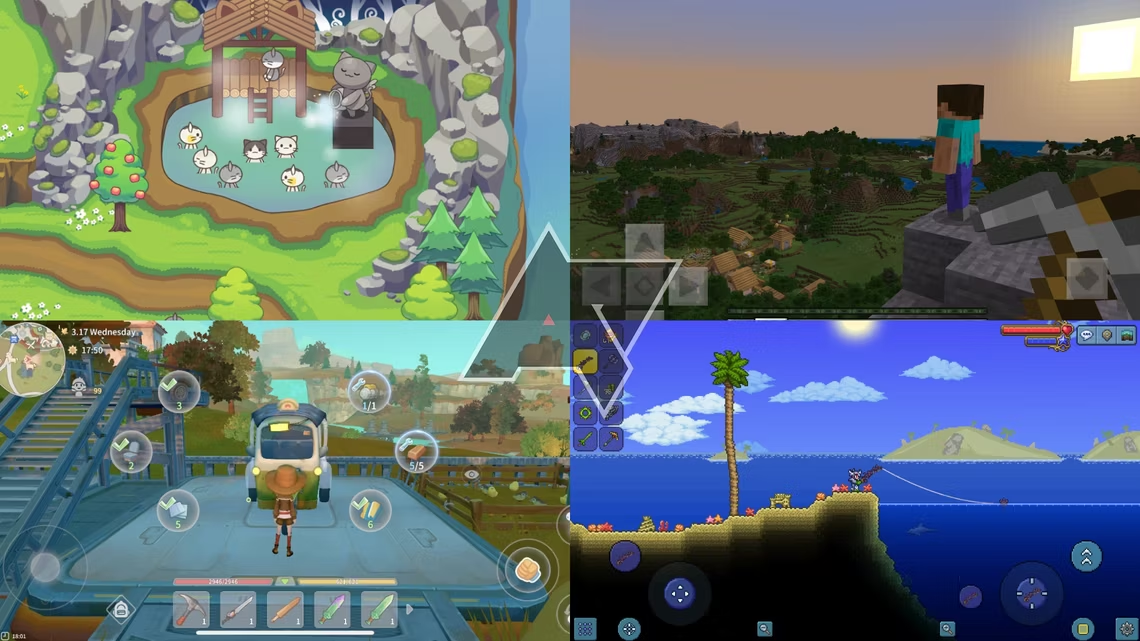 Games offer an excellent way to relax after a long day, be it a role-playing epic or a serene story in a visual novel. But is it as relaxing as fishing by the seaside or tending to your garden? Perhaps, you prefer to just decorate your room? In that case, Animal Crossing reigns supreme.
Few games can stand on par with the wholesome vibe of Animal Crossing and its cute characters. The abundance of enticing pastimes could keep you busy for thousands of hours, and Nintendo has brought a pocket version of Animal Crossing to the screens of Android phones and tablets.
1/ Animal Crossing: Pocket Camp
What could possibly top Animal Crossing other than a fully-fledged Animal Crossing game on mobile? While you'll still need a Nintendo console to play the most recent entries, such as New Horizons, Nintendo has made great strides to bring its biggest franchises to mobile platforms.
Games like Fire Emblem, and Mario Kart, have all made their way to Android, and you can even play Zelda clones on Android as well.
As per the name, Pocket Camp puts an emphasis on the outdoors. But other than that, you're getting a familiar Animal Crossing experience with a heavy dose of decoration mechanics. Pocket Camp provides you with your very own campsite that you can outfit with all manner of decorations, and you can even invite your friends to explore. Best of all, it's a free title anyone can play.
2/ Cat Forest – Healing Camp
In addition to human characters, Animal Crossing features lots of animals, including birds, squirrels, and mice. But what if the entire cast consisted entirely of cats? That's the idea that Cat Forest plays around with, much like a cat plays with its prey.
You see, Cat Forest is an Animal Crossing alternative, but with all of the characters being cats. Much like Pocket Camp, Cat Forest gives you reigns over a virtual campsite populated by a variety of furry felines.
Similarly, in this game, you can grow crops and then cook meals from the food you harvest, all while relaxing at a warm campfire or an even-warmer hot springs, all in the company of like-minded grimalkins. If you find yourself watching cat videos for hours on end, Cat Forest could scratch that itch much better.
3/ Forager
The first criterion that any Animal Crossing-inspired game has to meet is being cute, and Forager passes right off the bat. This 2D open-world exploration game puts you in the shoes of a cutesy little character.
Forager features many of Animal Crossing's aspects, including crafting and the purchasing of land. Buying additional land not only gives you ownership over new environs but also opens access to new locations.
On that note, Forager does focus more on exploration, with dangerous dungeons abound, so not every aspect is relaxing. Forager costs $7.99 on the Play Store with the added benefit of no ads, lootboxes, or other microtransactions.
4/ Happy Street
When it comes to capturing the charming essence of Animal Crossing, Happy Street likely comes the closest. Similarly, it has vibrant visuals, with cutesy characters and picturesque settings. Within these settings, Happy Street features many of the same mechanics.
You can build and decorate your own town or visit different regions to forage for resources. Forests allow you to fish or otherwise collect ingredients for the next meal back at home. On the other hand, mountains contain valuable ore that you can mine for building and crafting.
These locations have way more than that to offer, with characters, events, and secrets populating almost every corner.
5/ Harvest Town
Harvest Town is a farming simulation game that boasts clear similarities with Stardew Valley. That said, if you're not willing to spend $4.99 on the latter, then Harvest Town is a great alternative.
Harvest Town lets you outfit your cottage and change its appearance to your liking. The colorful pixel art style fills the game's world with charm, especially when its environments change along with the seasons. Seasons bring about an ever-changing repertoire of activities.
You could farm or raise cattle, mine, or shop at the local market. And if you grow tired of going at it alone, then you could always get married.
6/ Minecraft
What introduction could possibly give Minecraft justice? It's the best-selling video game of all time, ahead of blockbusters like Grand Theft Auto V and The Witcher 3. Whether it deserves every accolade is debatable, but there's no denying that Minecraft boasts features that no other game accomplishes.
The biggest selling point of Minecraft is that its world is limited only by your imagination. With enough materials and planning to make them come to life, you can erect any construction, be it your own creation or a virtual representation of an actual building.
On top of all of this, the game comes with the added benefit of being able to play online with friends to loot the game's dungeons together. Understandably, Minecraft is a premium experience that'll set you back $7.49, but you're getting one of the most content-dense games on the market that can be just as relaxing as Animal Crossing or as hectic as Zelda; it's that versatile.
7/ My Time at Portia
My Time at Portia takes inspiration from games like Animal Crossing and Harvest Moon. This open-world adventure revolves around a character who inherits a workshop from their late father.
With the help of this workshop, you'll build the game's pivotal town to your liking. And who knows, someone might take a liking to you, too, as the game also features a romancing system akin to many of the games that inspire it.
My Time at Portia is an Android port of the PC version, so you're getting a hefty game on the go. It costs $7.99, but the title is constantly updated with new content, with controller support planned for the future.
8/ Seabeard
Seabeard is an Animal Crossing game with a swashbuckling twist. Who you become in this world is entirely up to you. Perhaps you want to stick around as a fisherman or a cook? But if you're eager to explore, Seabeard gives you the option to set sail into uncharted lands.
Fortune favors the bold, as they say, because curiosity could lead you to long-forgotten dungeons. And long-forgotten dungeons are bound to be ripe with treasure. Seabeard has the pirate team written all over it, and going on adventures is more fun when you have a crew at your side.
Thankfully, Seabeard allows you to form pirate crews, interact with the crews of other players, or even explore their islands.
9/ Stardew Valley
Stardew Valley has taken the gaming world by storm. Developed by just one person, the game features a surprising, seemingly endless amount of content, with activities like farming, mining, crafting, and fishing, to name a few, all vying for your time. In fact, the developer drew inspiration from games like Animal Crossing, Minecraft, and Terraria, not to mention Harvest Moon.
Stardew Valley goes for a mere $4.99 on the Play Store and even comes included with a Play Pass subscription. Better yet, it features so much content that it could take you hundreds of hours to experience all of it, especially since the 1.5 update is finally here.
10/ Terraria
2D Minecraft. That's the easiest way to describe Terraria. Much like Mojang Studios' critically-acclaimed builder, Terraria is an open-world adventure game that lets you do all of the same things, but in 2D.
That doesn't make Terraria any less exhilarating or deep, as you'll still collect naturally occurring resources, build structures and populate them with merchants. Or you could just dig until you reach Hell itself.
With numerous updates since its release, Terraria's bursting with content, such as bosses, collectible armor, and weapon sets. Much like Stardew Valley, Terraria goes for $4.99 and delivers equal amounts of content that could easily last a lifetime.
11/ The Sims Mobile
The Sims has a long history of existing as the most in-depth life simulator on the market. Much like its PC and console counterpart, The Sims Mobile lets you create a virtual representation of yourself and nudge them into the wonderful world of… nine to five work… family life, and… sigh… a mortgage.
As per tradition, The Sims Mobile manages to make these mundane and often tedious aspects of life seem fun and rewarding. Once you've made your character, you can continuously decide on their career path, the design of their house, and even their social circle. Not to mention that you can interact with other players and form relationships with them.
12/ Tsuki's Odyssey
Tsuki's Odyssey boasts a distinct oriental flair, and its visuals contribute greatly to the game's appeal. It puts you in control of Tsuki, a cute rabbit-like creature wearing a red scarf. As Tsuki, you'll explore the pastel-colored Mushroom Village and interact with its many inhabitants.
As you might expect, Tsuki's Odyssey lets you do much of what you'd find in an Animal Crossing or Harvest Moon game. Much like the games that inspire it, Tsuki's Odyssey allows you to decorate your home, explore the surrounding areas, visit a ramen shop, or fish at the local lake.
Enjoy the serenity of Animal Crossing on mobile with some awesome facsimiles
These are the top 12 Animal Crossing-like games for 2023 to relax with. While many of them draw inspiration from Animal Crossing, they all offer their own unique selling-points. Is there an Animal Crossing alternative that we missed? Feel free to share your favorites in the comments so everyone can get in on the fun.
"Androidpolice"