Com2uS has added many new updates to The Walking Dead: All-Stars, including modes and challenges. Read now and discover what are those.
Get ready for new challenges and characters in The Walking Dead: All-Stars March 2023 update. Download The Walking Dead: All-Stars Now to experience major gameplay upgrades in this mobile collection RPG from Com2uS.
The March 2023 update for The Walking Dead: All-Stars, a mobile RPG game created by Com2uS Holdings and Skybound Productions, has introduced significant gameplay improvements that increase the level of difficulty in surviving during the post-apocalyptic world. Additionally, new exciting characters have been added along with empowering features and temporary events to provide players with an entirely new Challenge Mode experience.
Main Features of The Walking Dead: All-Stars March 2023 Update
Take on the thrilling Challenge Mode that presents intense combat scenarios with three different levels of difficulty. As you complete each level, you will earn valuable rewards such as Class-specific Special Gear and Enhance Material. Get ready for an all-new challenge!
Discover New, Original Characters – Welcome two new survivors to The Walking Dead: The original story of All-Stars is combined with the comic series. Lang, who has been trained as a hunter and has Warlord alignment, can use versatile attacks. By deploying him in either the front or back row, he targets the strongest enemy mercilessly and provides different stat boosts. Blaine is also available to double down on existing damage by using garden shears to leave grievous wounds on opponents despite her deceptive beauty.
Discover a fresh approach to the game by analyzing the frequently used characters worldwide through this latest method. Observe how other players are modifying their tactics for challenging battles and adopt these strategies yourself. Additionally, you can swap your highly upgraded Overseer and Warlord characters with any new character of your preference.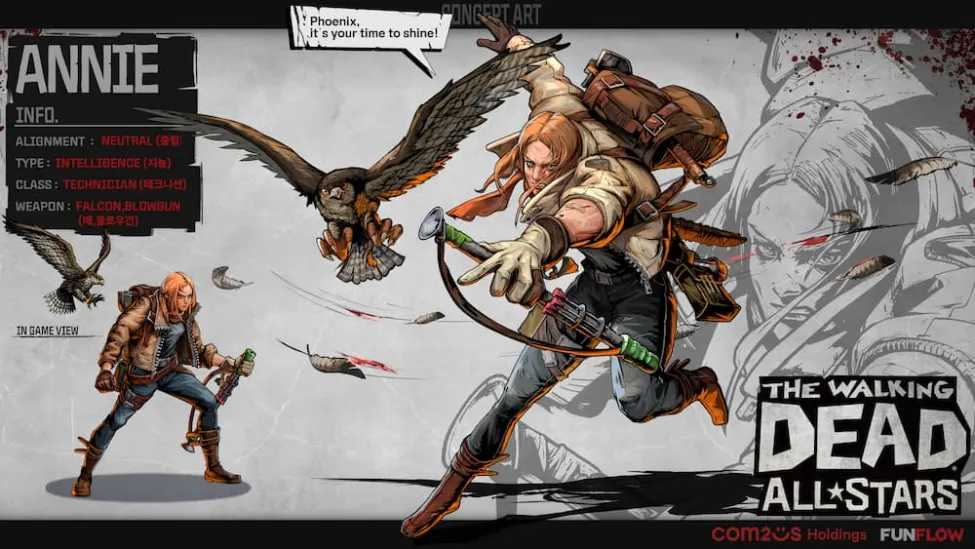 A Hidden Character Emerges – Search the forests near Asyl for a sneak peek at a new character, Rang, who will join The Walking Dead: In a forthcoming update to the story, there will be new characters known as All-Stars.
By availing of the Benefits feature, mythical and Warlord characters in Asyl can access new sources of power. This function allows up to 9 benefits for a single character at any given time, thereby enhancing their abilities as survivors.
Players can take part in a Town Management event until April 3, where they can complete daily quests to earn dice rolls on the Quench Your Thirst! event board. This and other events like the 7-Day Survival Support Event and 14-Day Growth Support Event starting March 23 offer generous rewards for upgrading characters and collecting them.