Which tips Tower of God: Great Journey starters should know? We have you covered with the perfect beginner guide to go through the gameplay with the best knowledge.
How to play Tower of God: Great Journey
Before jumping into Great Journey, keep in mind that it's an idle game where the lack of in-battle control may be jarring at first. Don't stress; this is a typical setup for any idle release.
You can time your Shinsu skills, similar to timing special skills in Priconne and Eversoul. However, this function becomes optional once you've toggled on the auto feature. Furthermore, whether you toggle auto (mode) on/off, your units still operate independently, meaning you can't control your units' skills and attacks in battle.
The gameplay isn't the core focus since the game plays more like an interactive webtoon. So it's best to focus on team preparation and resource collection to clear each floor.
1. How to recruit more characters in Tower of God: Great Journey
You can't depend on one or two characters to clear the game's content. The gacha system offers three banners, but your first few pulls will likely be on the Regular banner. Once you've acquired a character, quickly slot them into your team (tap Edit Team) — you can worry about individual power levels later.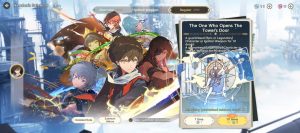 Please note that the Regular banner includes a mixture of weapons and characters, naturally making it more challenging to target a specific unit/Ignition weapon.
2. Re-rolling and what to aim for
If you're looking to optimize your account, you're going to re-roll for a legendary weapon; otherwise, go for a legendary character. Legendary weapons add passive skills that provide a more considerable boost (in combat strength) than acquiring characters without their signature weapons.
How to re-roll in Tower of God: Great Journey
Sign in as a guest.
Play through the tutorial and tap skip on story cutscenes (where applicable).
Claim all gifts with Summon tickets from the Mailbox (you get more from missions and quests clearance rewards).
Tap Summon to start your 10-pull on the Regular banner.
Tap on the gear icon (option) > Account > Delete Account.
Repeat the steps until you land a desirable legendary weapon/unit.
3. Upgrades and equipment
Gearing up for battle is how you'll guarantee each chapter clears easily. Thankfully, a peculiar system allows multiple units to share the same gear; the early game drops might not suit each unit individually, but it only matters once you start building sets out of higher-tier purple and yellow equipment.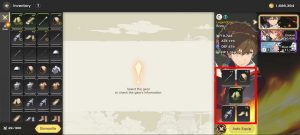 However, leveling up gear is chance-based; each upgrade has a chance to fail or succeed. Therefore, you may need to spend more Gold (than planned) to get lower-level gear up to par.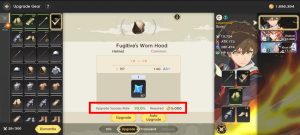 4. Story mode and account level
The story mode is the highlight of Great Journey. But sadly, the content is level locked (the second chapter required account level 15, for example). To bypass these locks, train units at the Rice Pot to accumulate a higher percentage of experience points.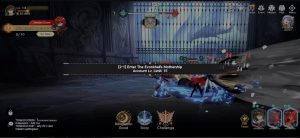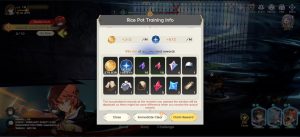 5. Tower of God: Great Journey continues its epic saga on Android
Even if the idle gameplay is not for everyone, fans of the series will be happy to see a continuation and re-telling of Crunchyroll's Tower of God animated series (covering seasons one and two). The series barely scratched the surface of the original source material, so this game offers another crack at unveiling its world/story. But, of course, even the best anime games on Android don't always faithfully borrow from the source material(s) to bring in additional angles, so why not dabble in and relive those glorious canonical moments — and who knows, maybe if the popularity of the franchise continues to boom with this new release then Crunchyroll might keep capitalizing on its success with even more content.
Source: Android Police