Here are the top 10 best workout apps for beginners that you shouldn't miss.
Embarking on a fitness journey can be both exciting and overwhelming, especially for beginners. Fortunately, there are numerous workout apps available that can provide guidance, motivation, and structure to help you kickstart your fitness routine. In this article, we will explore some of the best workout apps for beginners, making it easier for you to find the perfect app to support your fitness goals.
1. Nike Training Club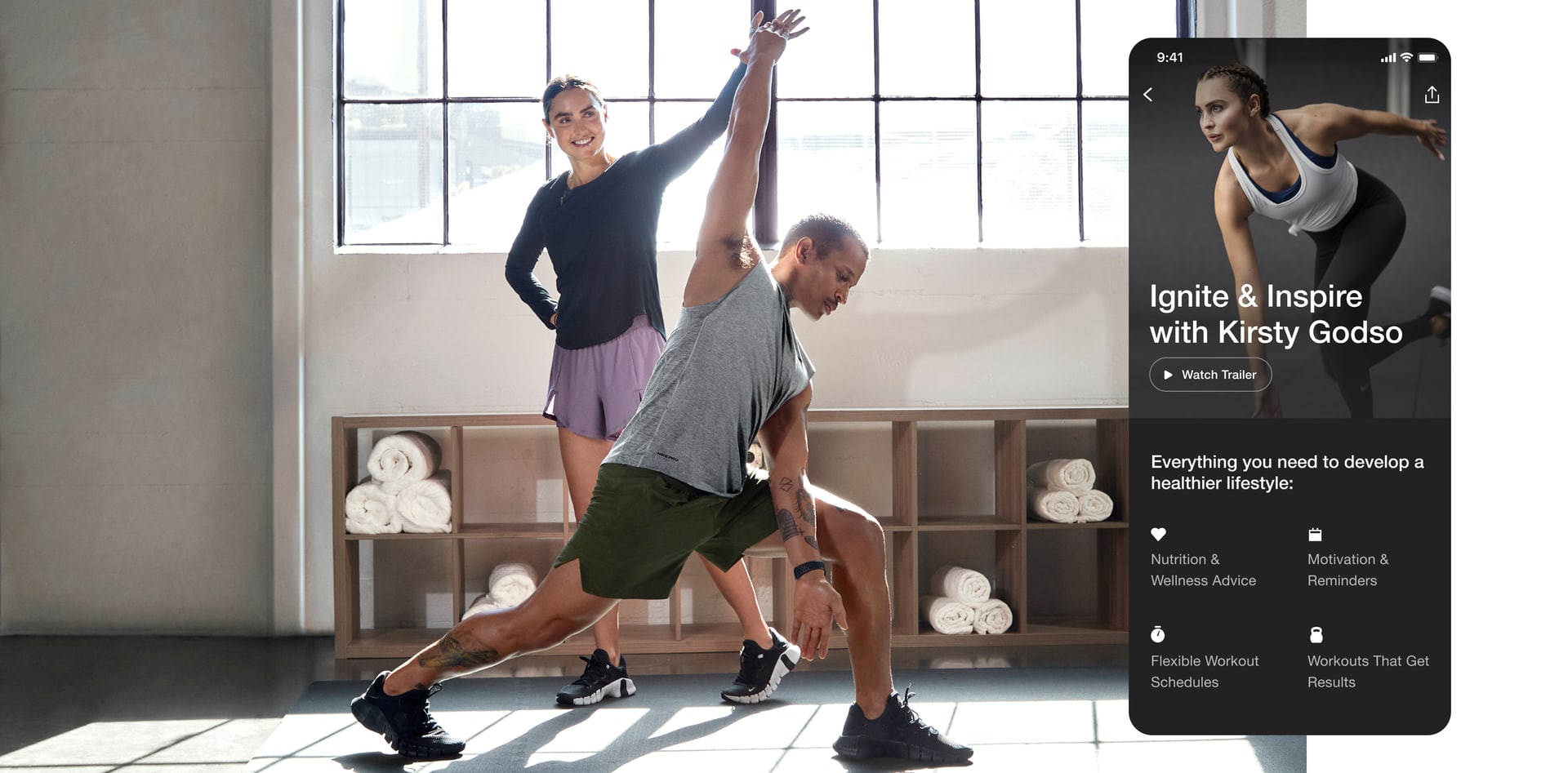 Nike Training Club offers a wide range of workouts for all fitness levels, including beginners. The app provides video tutorials, personalized training plans, and a variety of workout styles, such as strength training, cardio, yoga, and more. With its user-friendly interface and customizable options, Nike Training Club is an excellent choice for beginners looking for a comprehensive workout app.
2. 7 Minute Workout
Ideal for those with limited time or who prefer shorter workouts, the 7 Minute Workout app offers quick, high-intensity workouts that can be done anywhere, anytime. The app guides you through a series of exercises, each lasting 30 seconds, with short rest intervals in between. It's a great option for beginners looking to establish a consistent exercise routine without investing too much time.
3. Fitbod
Fitbod is a fantastic app for beginners who want to incorporate strength training into their fitness routine. The app creates personalized workout plans based on your goals, fitness level, and available equipment. Fitbod provides detailed exercise instructions, tracks your progress, and adjusts your workouts as you improve. It's a valuable tool for beginners looking to build strength and confidence in the gym.
4. MyFitnessPal
While not solely a workout app, MyFitnessPal is an excellent companion for beginners who want to track their nutrition and exercise. The app allows you to log your meals, count calories, and set fitness goals. It also offers a database of exercises and workouts, making it easy to track your progress and stay motivated on your fitness journey.
5. Yoga Studio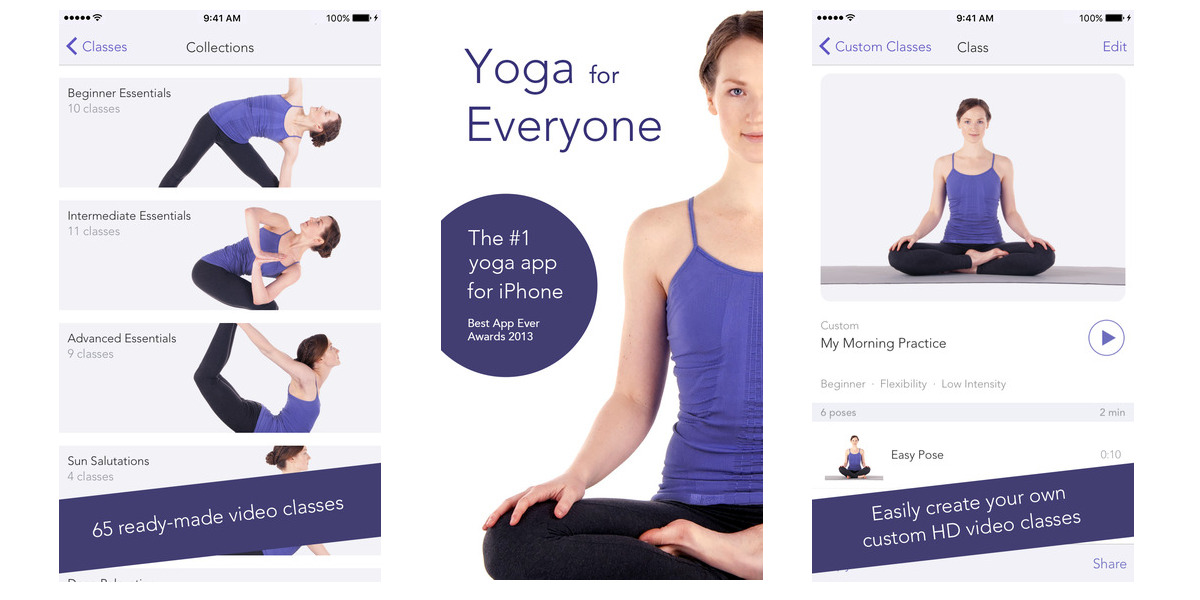 For beginners interested in yoga, Yoga Studio is a top-rated app that provides a variety of yoga classes for all levels. The app offers video classes with detailed instructions, customizable sessions, and a library of poses. Whether you're new to yoga or looking to deepen your practice, Yoga Studio is a great app to help you develop strength, flexibility, and mindfulness.
You may also like:
6. JEFIT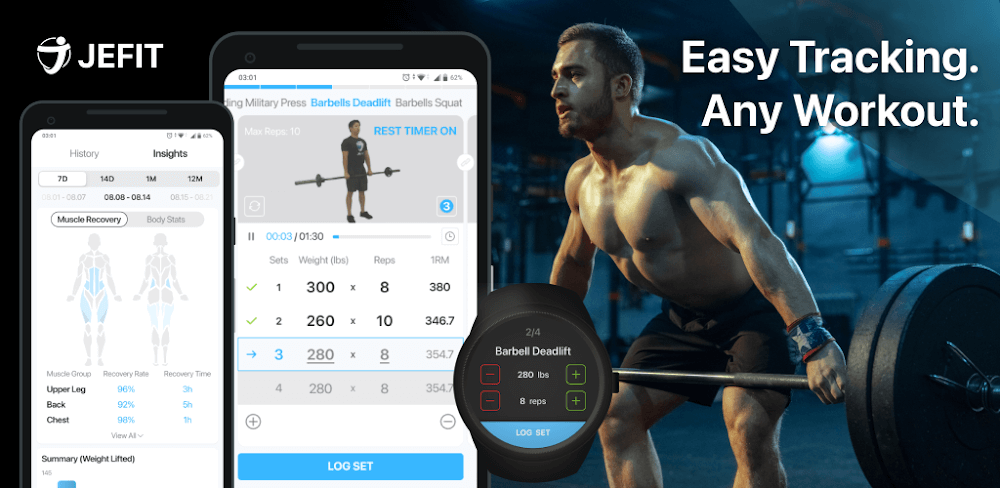 JEFIT provides a wide range of pre-designed workout plans suitable for beginners. These plans are created by fitness professionals and can be customized based on your goals, fitness level, and available equipment. Whether you're looking to build strength, lose weight, or improve overall fitness, JEFIT has a plan for you.
With JEFIT, you can plan and schedule your workouts in advance. The app provides reminders and notifications to keep you on track and ensure you never miss a workout. This feature is especially beneficial for beginners who may need extra structure and organization in their fitness routine.
7. StrongLifts 5×5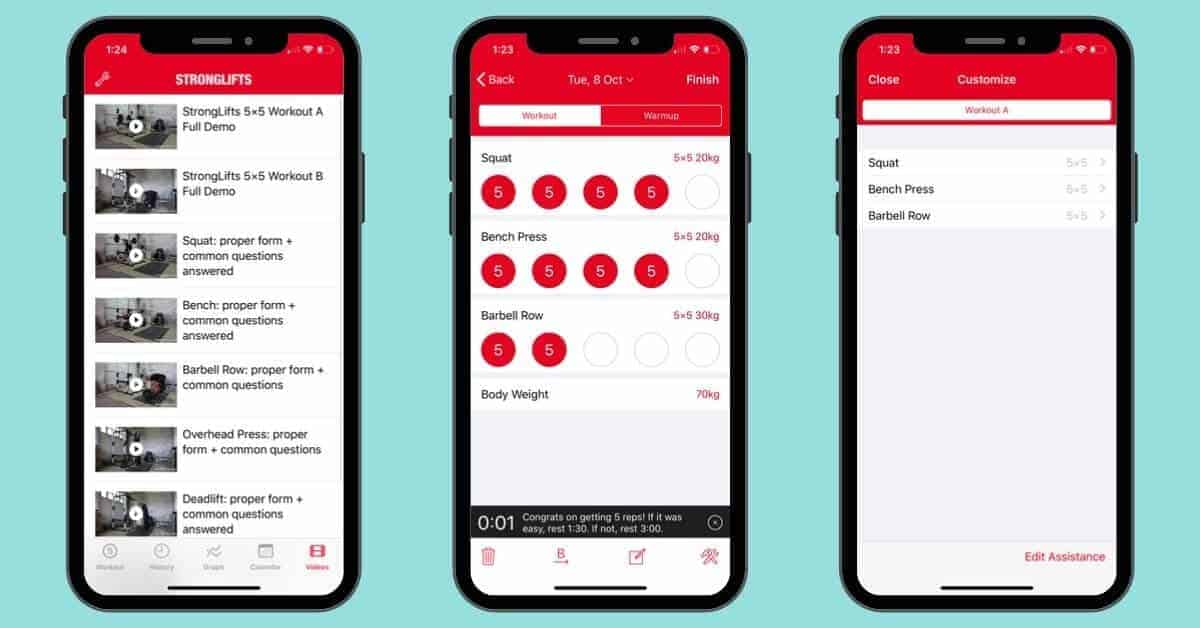 StrongLifts 5×5 allows user to track your workouts, sets, reps, and weights lifted. This feature helps you monitor your progress and ensures that you're consistently pushing yourself to lift heavier weights. You can view your workout history and track your strength gains over time.
Moreover, StrongLifts 5×5 includes a plate calculator feature that helps you determine the weight plates you need to load on the barbell for each exercise. This eliminates the need for manual calculations and makes it easier to set up your workouts.
StrongLifts 5×5 is a straightforward and effective workout app for beginners who want to focus on building strength. With its emphasis on compound exercises, progressive overload, and detailed tracking, the app provides a structured approach to help beginners develop a solid foundation of strength and muscle.
8. Couch to 5K
Couch to 5K is a popular workout app designed to help beginners gradually build up their running endurance and complete a 5K race. Couch to 5K is a beginner-friendly workout app that helps you gradually build up your running endurance and prepare for a 5K race. With customizable workouts, audio coaching, progress tracking, and community support, it provides a structured and motivating approach to help you achieve your running goals.
9. Daily Burn
Daily Burn is a comprehensive workout app designed to help you achieve your fitness goals from the comfort of your own home. With a vast library of workout programs led by expert trainers, you can choose from a variety of exercise styles, including cardio, strength training, yoga, dance, and more. The app offers personalized workout plans based on your fitness level and goals, ensuring that you get the most out of your workouts. With easy-to-follow video instructions, progress tracking, and a supportive community, Daily Burn makes it convenient and enjoyable to stay active and reach your fitness milestones. Whether you're a beginner or an experienced fitness enthusiast, this app has something for everyone.
10. Sworkit
With the help of the dynamic workout app Sworkit, you can work out wherever you are. Sworkit makes it simple to keep active and fit with a selection of customisable training regimens and thousands of activities to choose from. This software can help you if you want to increase your strength, flexibility, cardiovascular fitness, or all of the above. You can integrate fitness into your hectic schedule because the routines are 5 to 60 minutes. Sworkit leads you through each workout, ensuring appropriate form and technique, using video demonstrations and verbal cues.
To maintain motivation and watch your fitness journey develop, you may also track your advancement and create targets. Sworkit is a practical and useful tool that can assist you in reaching your fitness objectives, regardless of your level of experience as an athlete.
Starting a fitness journey as a beginner can be challenging, but with the right workout app, you can have the guidance and support you need to succeed. Whether you prefer strength training, cardio, quick workouts, or yoga, there are apps available to cater to your specific needs. Explore these best workout apps for beginners and find the one that resonates with you, helping you stay motivated, track progress, and achieve your fitness goals.