Find out more about the list of the top 10 best tank games for Android in the article below.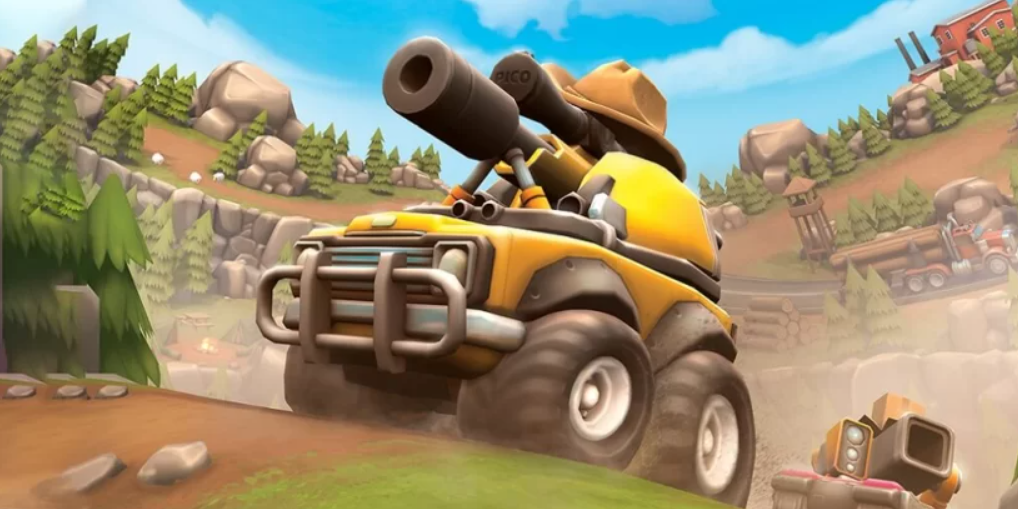 Some are fascinated with planes, bikes, and cars, but I love tanks. When I was young, I somehow got my hands on Pocket Tanks, a fast-paced artillery game, and since then, tanks have had a special place in my heart. If you are someone like me who loves tanks, then this post is just for you. In it, we will share a list of the top 10 best tank games for Android.
Whether you love real-time battles or a single-player campaign, or if you like competitive or casual games, our list of Android tank games has covered everything for you.
Not just that, We will keep updating this list as and when more tank games arrive on Android or if any of the titles receive an update. We'll also mention any significant changes that we spot every time. So let's not waste any more time and dive into our list of the top 10 best tank games for Android.
1. Pocket Tanks
Developer: BlitWise Productions
Backup link: APK Version
Genre: Action, Fighting, Multiplayer, Shooter
Pocket Tanks is my personal favourite, and maybe this is why it ranks first on our list. It's a classic tank game first released in 2001 on Windows before BlitWise Productions brought it to Android in 2012.
It is a simple, fast-paced artillery game that is very simple to learn and fun to master. There are over 145 different weapons that you can equip to your machine, and the objective is to take down the others on the battlefield. You can choose to play with your friends or take down random players worldwide.
2. World of Tanks Blitz
Publisher: Wargaming
Backup link: APK Version
Genre: Action, Strategy
World of Tanks Blitz is probably the most famous tank game for Android. It's an MMO shooter from Wargaming. It features a 7×7 format where you take your machine and try to win in the massive battles.
It features a variety of vehicles, maps and game modes. If you are a true tank lover, you will easily spot the historically accurate World War vehicles from various countries.
However, do note that World of Tanks Blitz is a heavy game and requires at least 2.5 GB of space on your Android device.
3. Tank Hero
Developer: Clapfoot Inc
Publisher: Clapfoot Inc
Backup link: APK Version
Genre: Action
Tank Hero is a fast-paced 3D title where you try to take down your enemies with cannons. It features 80 arenas over two worlds. There are over 120 levels. It is free-to-play with no consumables or upgrades to purchase.
If you are looking for a casual Android tank game to kill time, then Tank Hero is for you. It has a small download size and can be played offline.
4. War Machines: Tanks Battle Game
If you are looking for a multiplayer tank battle game, then War Machines: Tanks Battle Game is for you. It's a fast and explosive battler where you take part in three minute online battles with up to 8 players.
It's a full-fledged game with clan wars and leaderboards. You start your journey as a private and then progress in your military career, unlocking powerful and deadly tanks such as the Panzer IV, M1A2 SEP v3 and T90.
5. Armored Aces – Tank War
Armored Aces – Tank War is another serious Android tank game published by i6 Games. Here you battle other online players around the world in 6v6 authentic tanks. There are over 100 different vehicles to choose from.
You have to upgrade your tank to make it stronger and take down enemies. You can also make friends in-game and play together to win battles. Don't forget to create or join clans, it's an important feature.
You may also like:
6. Tank Stars
Tank Stars is one of the best tank games for Android. With around 2 million reviews, it has an average rating of 4.6 on Google Play, which gives you an idea of how good the game is.
Tanks Stars probably has the best graphics of any title mentioned in this list. In it, you take part in tank duels. It features a lot of combat vehicles with powerful explosions. You have to take down the opponent's tank before they take yours out. It's all about making the right shot quickly.
7. Tanktastic 3D tanks
Tanktastic is MMO with great graphics and realistic physics. It features many tanks from WWII to the present day. It has 12 maps and four different game modes.
There are over 150 different vehicles to choose from and to add to that. There are more than 90 different amazing camouflages that you can use. Tanktastic supports both online multiplayer and offline modes.
8. Hills of Steel 2
Enough of serious tank battles. Now let's talk about Hills of Steel 2. It's a 3v3 free-to-play team tank battle game with realistic features. Unlike other games on the list, the graphics are cartoony and fun.
In Hills of Steel 2 you race through the hills with your team to dominate. You can add friends and play with them. The game features over eight modes, from Team Survival and Boss Battle to Bunker Bash. There are over 17 vehicles to unlock. You can customize each of these to your wishes and make them stronger.
9. Tanks a Lot
As the name suggests, Tanks a Lot is a Brawl Stars style top-down 3v3 real-time tank battler published by Highcore Labs. There are three game modes, including my favourite battle royale mode.
Tanks a Lot allows you to build your own tanks. You can team up with your friends or battle against them and show them who the boss is. As you progress, you unlock more vehicles and weapons that are much stronger.
10. Pico Tanks: Multiplayer Mayhem
Lastly, we have Pico Tanks: Multiplayer Mayhem, which is similar to Tanks A Lot. It's also a real-time 3v3 tank battler that is to be played in the third person. You can team up with your friends and take down enemy teams.
Pico Tanks: Multiplayer Mayhem is a perfect mix of a competitive and casual game. Here you can design your unique tanks. There are multiple maps and game modes to enjoy, such as holding the flag, fetching the cargo, and team deathmatch.
With this, we come to the end of our list of best tank games for Android. If you think we missed out on anything that should be on this list, then do let us know in the comments below.
"Pocketgamer"